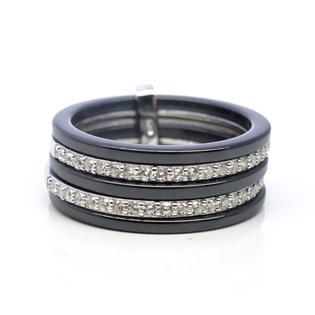 Black Ceramic And Cubic Zirconia Ring
Black Ceramic And Zirconia Ring
Stylish and elegant - a perfect combination of classic shape and modern approach to design! This stunning ring matches your everyday outfit just as well as it elegantly complements a cocktail dress. All parts of the ring are held together by an elegant sterling silver connector on the back of the shank, and move independently to perfectly fit all curves of your finger. Not only it's a stunning jewellery piece, it's also amazingly cozy on your finger!
See international sizes chart.
Can't find your size? Contact us and we will find it out.
Need Help?
RETURNS & EXCHANGES
Articles are accepted for credit or exchange in the country where they were originally purchased, if returned in saleable condition within 30 days, accompanied by a sales receipt. Some exclusions may apply. A refund will be made to the purchaser upon request if payment has been received. The refund to the purchaser will be in the form of the original tender.
SHIPPING INFORMATION
All orders over $50 will be shipped via AusPost FREE of charge. Please allow 2-5 business days to receive your order. Items on special and custom design order may take longer. You may verify the status of your order and shipment by contacting Customer Service at 08 6225 2770. A representative will be on hand to assist you from 9:00AM-5:00PM WST Monday-Friday

All our products are completely nickel and lead FREE, including the base metal, hardware and plating. GUARANTEED!