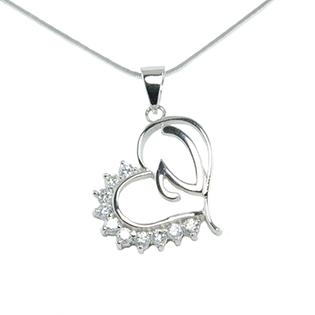 Silver Pendant Heart Shape V
Sterling 925 Silver Pendant with AAA+ Grade Cubic Zirconia Heart Shape V
A perfect way to show your feelings to your beloved Vicky, Vanessa, Vivienne… She will feel Very special with this personalised name letter pendant. And – don't forget – Italian sterling silver chain comes absolutely FREE with this amazing V shaped pendant.
Need Help?
RETURNS & EXCHANGES
Articles are accepted for credit or exchange in the country where they were originally purchased, if returned in saleable condition within 30 days, accompanied by a sales receipt. Some exclusions may apply. A refund will be made to the purchaser upon request if payment has been received. The refund to the purchaser will be in the form of the original tender.
SHIPPING INFORMATION
All orders over $50 will be shipped via AusPost FREE of charge. Please allow 2-5 business days to receive your order. Items on special and custom design order may take longer. You may verify the status of your order and shipment by contacting Customer Service at 08 6225 2770. A representative will be on hand to assist you from 9:00AM-5:00PM WST Monday-Friday

All our products are completely nickel and lead FREE, including the base metal, hardware and plating. GUARANTEED!